The Flave 22 Titanium - THE ULTIMATE FLAVOR RDA
The Flave goes in 22mm while nobility in favor of a single experiment, the alliance of steam and flavor in a smaller format lighter for purists of diameter 22. Discover the Flave 22 Titanium Edition ( Batch 2 1000pcs )


Customer ratings and reviews
More info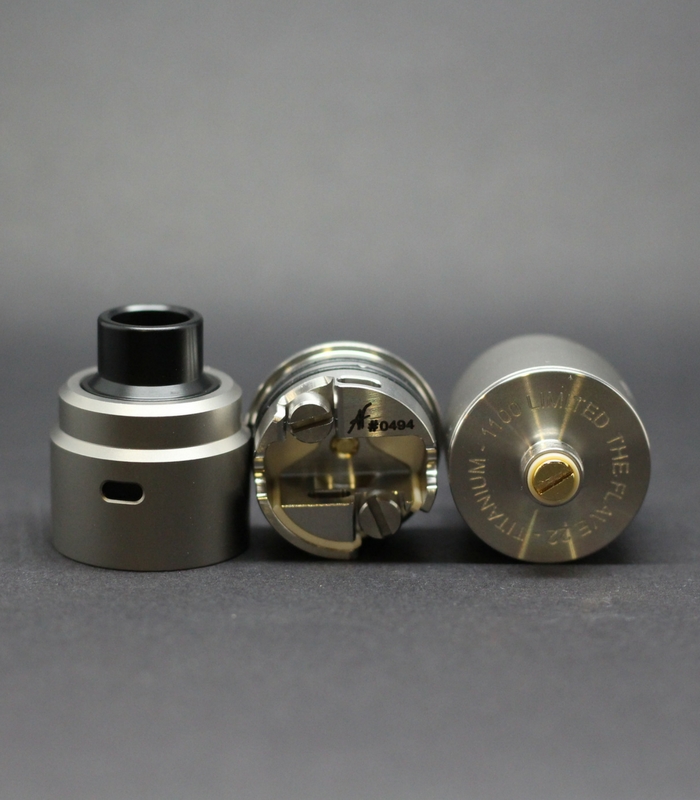 Numéro de série marqué au laser précédé de notre signature.
- Le diamètre des vis est passé à 2,5mm le diamètre de la tête de vis est augmenté proportionnellement tout en conservant le même passage de fil.
- Les airflow sont des fraisages oblongs de 2 par 4.5mm orientés tout comme sur le flave 24 de façon décalé sur chaque côté du coil afin d'obtenir un brassage optimal de la vaporisation. Nous conservons une pente spécifique afin d'orienter l'airflow sur la partie basse du coil et éviter l'oversquonking.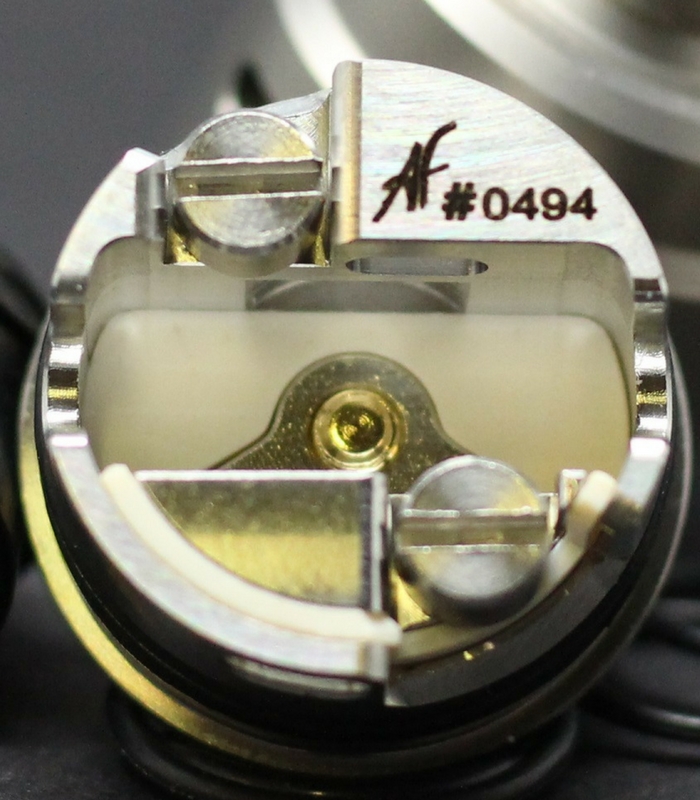 Pour cette série limitée nous avons voulu travailler avec les matériaux les plus nobles notre choix s'est porté sur le titane pour le top cap ainsi que le drip tip. Son aspect et état de surface, sa légèreté et son contact sont les points marquants de cette matière. De plus le titane faisant parti des aciers réfractaires cela limite la transmission de chaleur. Le titane étant moins conducteur, la matière du plateau quant à elle, est en inox 316L afin de préserver la conductivité du Flave 24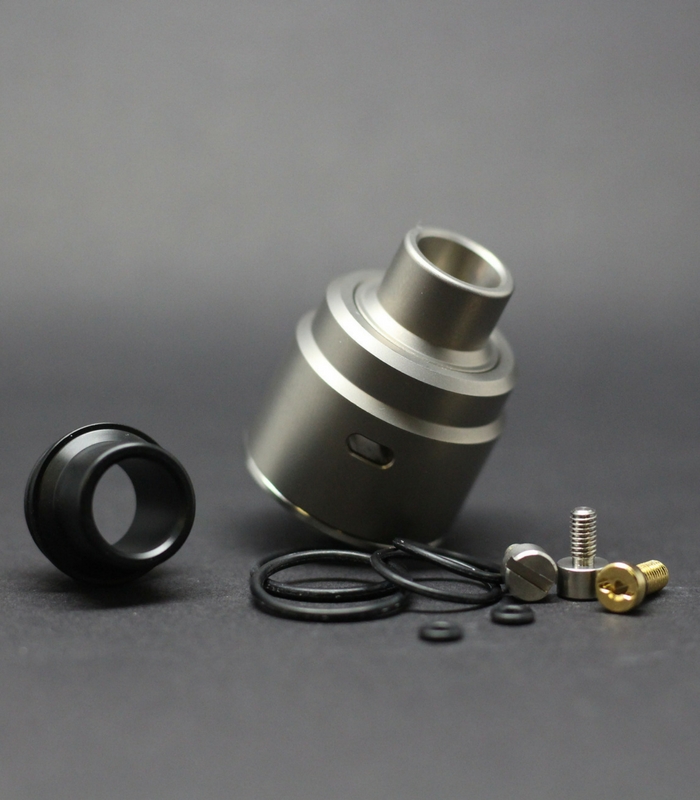 Les Pins positifs et Pins bottom feeder sont plaqués or L'isolant Peek est inséré en contrainte à l'intérieur du connecteur 510 pour assurer un maximum d'étanchéité et recouvre d'avantage le pin positif dans le but de maximiser l'isolation notamment pour les montages hybrides.


AllianceTech Vapor, the french modder, is back with its newest RDA atomizer: The Flave 22 Titanium Limited Edition! The atomizer looks like its big brother. The difference is that the atty has a 22mm diameter and is made of titanium! This special construction offers an amazing design to the atomizer, very elegant. A lot of vapers will love it! The atomizer is delivered with a drip tip made of Delrin. Notice that the atomizer is in Limited Edition!
Physical features
- Diameter: 22mm
- Material: Titanium
- Delivered with drip tip made of Delrin
Performances
Even if it's smaller than it's brothers, The Flave 22 Titanium just works like The Flave RDA. It accepts single coil builds, only smaller because the deck has been reduced. But it will provide amazing flavors to its users! Flavorchasers will be more than seduced!
Coils are still easy to build thanks to the notches on each side of the deck. The deck's base has also been milled in order to welcome more juice!
The Flave 22 is, just like its brothers, a bottom-feeder atomizer. Squonkers, you'll be able to use it with your favorite BF boxes!
Airflow is still adjustable but a bit tighter than usual! The dripper is delivered with a Gold Plated Pin.
Once more, AllianceTech Vapor spoils us with an incredible atomizer. The Flave 22 Titanium Limited Edition has an amazing design and performances! You definitely want this one! Thank you AllianceTech Vapor!
Technical features
- RDA atomizer
- Delivered with BF Pin
- Airflow control
- Single coil - Easy to build thanks to the notches of each side of the deck
- Milled deck for more juice
Kit content
- The Flave 22 Titanium x1
- BF Gold Plated Pin x1
By
Dameon M.
(Pueblo, UNITED STATES) on 14 July 2018
(

The Flave 22 Titanium - THE ULTIMATE FLAVOR RDA

)
:
The Flave 22 Ti LE
Amazing build quality and the flavor is top-notch. This is easily the best single coil rda I've owned. The only thing I don't like is that the drip tip is so short and thin. This combined with the very reduced chamber, and the fact that I like a warm vape, means that it gets hot very quickly. I have finally settled on a high resistance round wire build for now. Utilizing a .5 ni80 coil at 35 watts gives me a slightly warm vape that allows me to take a longer draw and chain vape it 4-5 times before it gets hot. (which is more than acceptable) This is no fault of the product. It's due to the way I like to vape.

The flavor is the best I've had so far. After comparing to products like the hadaly and recurve, this just gives better flavor. AllianceTech did an incredible job with this one!
By
Maurice W.
(Carrickfergus, UNITED KINGDOM) on 21 May 2018
(

The Flave 22 Titanium - THE ULTIMATE FLAVOR RDA

)
:
Excellent
Continuing the excellent flavour, ease of build and solid construction the 22 is as good if not slightly better than its big brother of which I for one am a huge fan. keep up the great work.
30 other products in the same category:
Customers who bought this product also bought: