AFMOD RS AIO
Après plusieurs mois de travail, nous avons décidé de sortir un coffret collector limité à 500 exemplaires (300 SS et 200 Sb) : le Kit Collector AFMod RS Aïo.
All In One : un tube mécanique complet, ou la base du Flave 22 RS est usinée dans le prolongement du tube pour une conductivité optimale.
Un nouveau Switch qui étonnera les utilisateurs des précédents AFMOD.
Un tube adaptateur 18650.
Customer ratings and reviews
More info
Lancement officiel Mercredi 15 Septembre 2021.
L'AFMOD RS AIO 
Le mod permet d'utiliser des accus 18350 ou 18650. Mettez simplement l'accu dans votre mod et le tour est joué, l'ajustement se fait automatiquement en fonction de votre accu. Etant donné que nous sommes sur un mod mécanique, nous vous conseillons des accus avec des courants de décharge supérieurs à 20A en 18650 et 10A ou supérieur pour les 18350, nous conseillons également une résistance d'au moins 0.6 ohm ainsi qu'un diamètre de coil de 2.5mm utilisé avec un accu 18350 pour éviter une chauffe trop importante du tube.
L'atomiseur Flave Tank RS 22 hybrid est moins gourmand que son frère le Flave Tank RS 24. Cela permet une utilisation en mod méca avec des montages nécessitant moins de puissance. Vous retrouverez des saveurs précises et denses sur ce tank RS 22.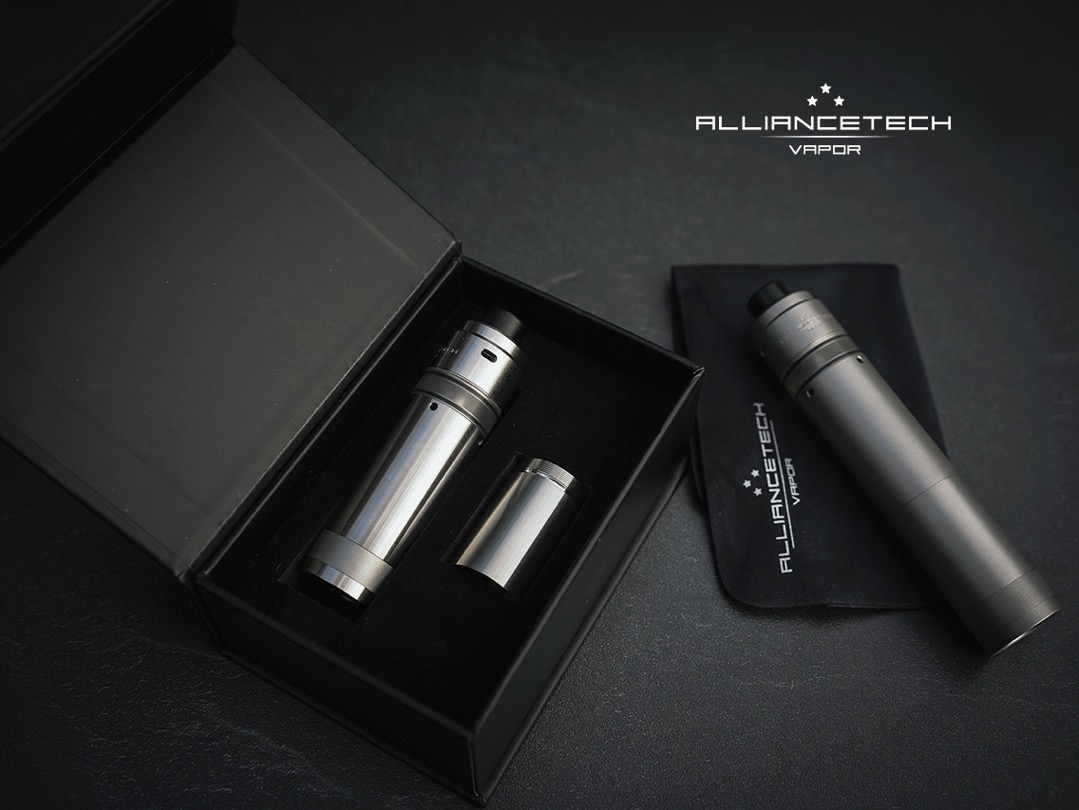 The Switch, Auto Adjust System!
Un vrai travail a été réalisé sur le switch qui comporte pas moins de 8 pièces et 4 clavettes. La conception permet d'éviter les arcs électriques sur vos accus (et prolongent donc leur durée de vie). L'accu est effectivement toujours en contact avec le haut du switch, le contact se faisant à l'intérieur. Là aussi, nous avons pensé à maximiser la surface de contact qui se fait sur tout le tour de la pièce. Cela permet de ne pas encrasser le switch et donc une maintenance aisée. 
Le switch est également verrouillable par simple rotation de la bague de verrouillage en moins d'un quart de tour. A la base du switch se trouve une rondelle inox qui se dévisse, et qui permet de démonter entièrement le switch pour le nettoyer. En enlevant cette rondelle, nous pouvons faire glisser le lock ring pour apercevoir les clavettes, marquées par une petite encoche qui permet de les retirer avec l'ongle, aisément pour pouvoir démonter le switch très facilement, un jeu d'enfants.
Nous avons conçu un switch le plus agréable possible à utiliser et le plus simple possible à entretenir même si il ne nécessitera pas d'attention particulières fréquentes.
Le format 18350 amènera une compacité agréable au quotidien, tout en ayant une autonomie intéressante pour ce format grâce à sa conductivité.
Le format 18650 vous amènera une autonomie supérieure bien évidement, mais permettra aussi d'utiliser des résistances plus basse nécessitant un courant de décharge continu supérieur que ne peut amener un accu 18350.
Le remplissage du RS 22 se fera de la même façon qu'avec le RS 24, c'est à dire qu'en enlevant le top cap vous laisserez apparaître un trou de remplissage latéral qui acceptera la plupart des Chubbys du marché, pensez à tenir la fiole un peu à la verticale et n'hésitez pas à bien l'insérer dans le trou prévu à cet effet.
Pensez à effectuer un nettoyage complet de l'AFMOD RS AIO avant première utilisation pour éviter un goût de résidu d'huile de coupe, malgré toutes les précautions prises au nettoyage après usinage.
Caractéristiques techniques :
- 18350/18650 batterie non fournie.
- Hauteur : 82,7mm (18350)  et 112,1mm (18650) avec drip tip.
- Switch verrouillable.
- Connecteur négatif en cuivre plaqué argent.
- Pin positif plaqué or.
11 other products in the same category: