The Flave 22 - SS Edition
The Flave goes in 22mm while nobility in favor of a single experiment, the alliance of steam and flavor in a smaller format lighter for purists of diameter 22. Discover the Flave 22 SS stainless steel (stainless steel).
B#2 Release date : May 18 1PM UCT+2


Customer ratings and reviews
More info
Numéro de série marqué au laser précédé de notre signature.
- Le diamètre des vis est passé à 2,5mm le diamètre de la tête de vis est augmenté proportionnellement tout en conservant le même passage de fil.
- Les airflow sont des fraisages oblongs de 2 par 4.5mm orientés tout comme sur le flave 24 de façon décalé sur chaque côté du coil afin d'obtenir un brassage optimal de la vaporisation. Nous conservons une pente spécifique afin d'orienter l'airflow sur la partie basse du coil et éviter l'oversquonking.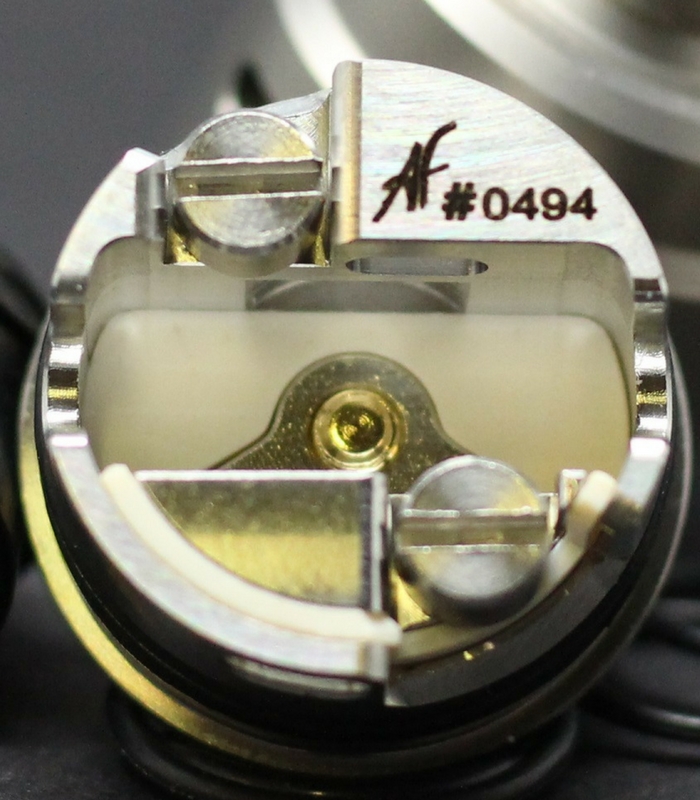 Les Pins positifs et Pins bottom feeder sont plaqués or L'isolant Peek est inséré en contrainte à l'intérieur du connecteur 510 pour assurer un maximum d'étanchéité et recouvre d'avantage le pin positif dans le but de maximiser l'isolation notamment pour les montages hybrides.


AllianceTech Vapor, the french modder, is back with its newest RDA atomizer: The Flave 22 SS Edition ! The atomizer looks like its big brother. The difference is that the atty has a 22mm diameter!
This special construction offers an amazing design to the atomizer, very elegant. A lot of vapers will love it! The atomizer is delivered with a drip tip made of Delrin. 

Physical features
- Diameter: 22mm
- Material: Stainless Steel 316L
- Delivered with drip tip made of Ultem
Performances
Even if it's smaller than it's brothers, The Flave 22 SS just works like The Flave RDA. It accepts single coil builds, only smaller because the deck has been reduced. But it will provide amazing flavors to its users! Flavorchasers will be more than seduced!
Coils are still easy to build thanks to the notches on each side of the deck. The deck's base has also been milled in order to welcome more juice!
The Flave 22 is, just like its brothers, a bottom-feeder atomizer. Squonkers, you'll be able to use it with your favorite BF boxes!
Airflow is still adjustable but a bit tighter than usual! The dripper is delivered with a Gold Plated Pin.
Once more, AllianceTech Vapor spoils us with an incredible atomizer. The Flave 22 SS Edition has an amazing design and performances! You definitely want this one! Thank you AllianceTech Vapor!

Technical features
- RDA atomizer
- Delivered with BF Pin
- Airflow control
- Single coil - Easy to build thanks to the notches of each side of the deck
- Milled deck for more juice
Kit content
- The Flave 22 SS x1
- BF Gold Plated Pin x1
30 other products in the same category:
Customers who bought this product also bought: